Deer Exclusion Fencing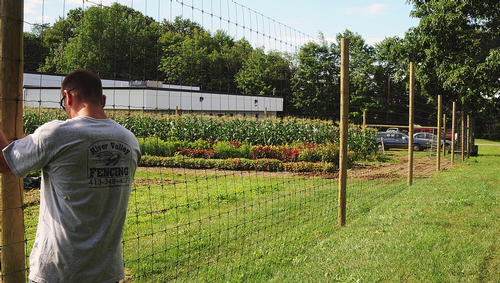 8' Fixed Knot high tensile deer exclusion fence: the most effective and economical fence, and the best possible investment.
In response to the unchecked deer population growth in the Northeast, River Valley Fencing has been installing deer exclusion fences on farms and orchards for the past 25 years, where growers have been sustaining from 30-50% crop loss due to deer. In the past decade, these deer and wildlife fences are now becoming necessary in a wider variety of settings, including institutional and commercial crop research facilities, solar fields, public parks and botanical gardens, even private gardens.
While various options for deer deterrent exist, there is no doubt that the 8' fixed knot high tensile woven wire fence is the most effective and economical deer exclusion fence available. This fixed knot high-tensile woven wire meets the needs of the agricultural industry, due to its low cost, high utility and exceptional longevity. In addition to increasing yields, and in some cases doubling it for farmers, this type of permanent deer exclusion fence is particularly popular for situations where exclusion and aesthetic impact are of equal importance.
Growers report that crop savings in the first two years alone have paid for their fences.
"After attempting everything under the sun to control our deer populations, we started working with River Valley Fencing in 2010. We now have deer exclusion fence protecting a total of about 100 acres in two different tree fruit orchards. We were so satisfied with both the quality of construction and the increased yields in our protected orchards that we've continued to contract River Valley Fencing each year since then to protect additional acreage. They bring professionalism and efficiency year after year and their finished projects outshine competing installers." Greg Parzych, Rogers Orchard, Southington CT
"After one year of the fence being up, we have seen a significant increase in yield. There were a couple of orchards that we didn't fence and now I wish I had. This was a high-quality installation; the fence is excellent, both aesthetically and operationally." Frank Carlson, Carlson Orchards, Harvard, MA
---