About River Valley Fencing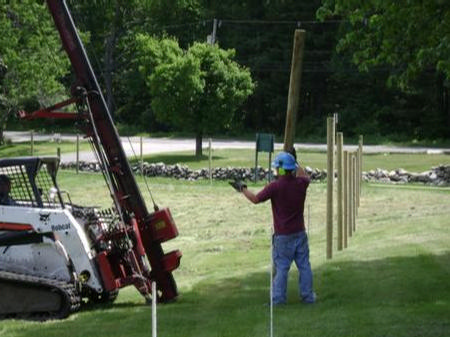 River Valley Fencing, in business since 1997, specializes in agricultural fences that are functional and beautiful; trellises that are strong and fully support the demands of today's fruit tree varieties; bird net systems that preserve your harvest and blend into the environment; and wildlife barrier fences for solar fields.
River Valley Fencing has the experience and equipment to work on the most difficult terrains-rocky and hard packed soil-conditions frequently found in New England and the Northeast. Using the finest materials that are best suited to your needs, the RVF team of experienced fence installers will build fences, trellises and bird net systems that protect your livestock or crops and beautify your landscape. No job is too small or too large for River Valley Fencing.
Daniel Maltby, owner of River Valley Fencing, will consult with you, either by phone or during an on-site visit, about your needs and will review the best options available to you. Following the consultation, he will provide you with a written plan, the duration of the work, and a cost estimate. When you are ready to begin your project, Daniel will schedule the job, have materials delivered, and will arrive with his installation team to efficiently complete the project.
Daniel has extensive experience working with USDA and state agriculture grant programs.
About River Valley Fencing
The River Valley Fencing Team and Equipment Setting Up and Installing a Fence Project